Here is sweet Bellie's dress.
I based it off of this dress and made my own pattern.
I got this dress from Tracie as a hand me down and absolutely love love love the color and different sized polka dots. But the cut is so incredibly cute too! Simple A-line, bib front, and cute gathered sleeve.
I changed it up a bit by moving the closure to the back and adding a bib detail to the front rather than the closure. I thought it would take up too much of my precious print fabric!
I used grey double fold bias tape to finish the neckline and bottom hem of the dress. Best of all this dress only needs about 20" of fabric...less than 2/3 yard!
So, is this something you guys would like to see a tutorial for? I took pics of everything but it is a very very simple dress!
Now I just need to add some fabric to the belt on my dress and hopefully *fingers crossed* I have enough fabric to make each of the puppies a bow! Because seriously there isn't any more of this fabric for sale anywhere online! AH!
Linking up with...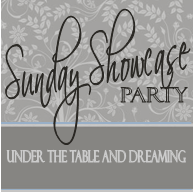 Love and Hugs,