Do you have a Buckle store where you live? Seriously I LOVE that store. I do a workout 4 times a week with
this motivating momma
at the mall because it is too stinkin' hot to do it outside. So I walk by there at least 4 times a week drooling over whatever they have in their display window. Too timid to go inside because I know I will spend WAY too much money!
Last window display they had several tiered ruffle skirts which are so simple to make. One in particular stood out to me.
This one!
After drooling over it again online I decided I was going to make one! On a trip to Phoenix this past week I stopped at hobby lobby. While they didn't have the greatest selection of lace or ANY nylon chiffon (which doesn't fray like polyester chiffon) they did have this great 4" lace trim that was kind of scalloped on the finished edge and shirred! Yeah I don't have to hem it or ruffle it!
Since I am totally an instant gratification kind of girl and live in the biggest small town where no one has any nylon chiffon. And I'm trying to use what I have and not buy so much fabric...I just decided to do without the extra white ruffle under the lace and just do several lace ruffles with a white knit underskirt and a t-shirt waistband.
Materials List:
Several yards of 4 1/2" lace trim (I used 6 yards, but it was pre-ruffled and had a elastic on the underside almost like shirred fabric, if you have to ruffle it up you need double)
1 Yard-ish of knit under fabric
matching thread
First make a t-shirt waistband. I totally forgot to take pics of this part because it is second nature to me so I'll try to talk you through it. Start by cutting the bottom 6" off of an old T-shirt or a 6" strip of your knit fabric. Measure your waist then divide it by 2 and subtract 4 inches. So I wanted mine to sit lower on my hips I measured and they were about 29".
29 / 2 - 4 = 10.5 + 1 (for 1/2 seam allowance on each side) = 11.5
Then cut your 6" strip to 11.5 inches (x2 one for front and one for the back) and stitch a 1/2 seam down each short side. Fold over so the seams are on the inside and Voila you've got a 3" T-shirt waistband!
If that was confusing check out
this link
and Ms. Disney will show you exactly how to do it, pictures and all!
Then take a strip of your lace and pin it right sides together to your waistband and stitch down with a zig zag stitch (to maintain the stretch).
Cut a strip of knit to 4" (because you want the next layer of lace to be just under the first layer of lace in this case about a 1/2") and ruffle it up. Either with a ruffle foot or by basting your longest stitch length and pulling the top thread until your strip is all ruffled up. Then stitch it down (again with a zig zag stitch) on top of the lace. Then pull the ruffle basting stitch out of the knit or break the ruffle-ing stitch ever so slightly making sure not to break the zig zag stitch. Otherwise it will not stretch properly. Now you should have a little lace sandwich!
Turn the knit strip down and stitch the next layer of lace onto the knit right sides together with a straight stitch. With the knit fabric all ruffled up there should be plenty of room for your hips and no need for any stretch to it really!
Then add another 4" strip of knit to the lace making another little lace sandwich. No need to ruffle this layer of knit. And repeat until you have enough layers to cover your bottom!
Two layers, ideal for a little girl. But who am I kidding! My booty would hang out the bottom of that!
Now that is better!
This principal can be applied to any ruffled skirt using regular cotton too but you would have to ruffle it before you stitched it down to the knit. I chose knit because it has a nice stretch to it and you don't have to hem it!
Linking up to Ms. Jennifer's weekend wrap up party!
And....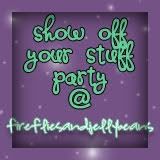 And...
Seriously! Who doesn't heart naptime?